Photo Coverage with Top Name Professional Ron Lewis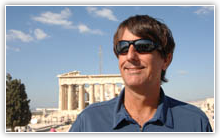 Bio:
Ron, based in San Diego, has been covering auto races since the mid 60s, as a teenager. His passion for taking in and recording the imagery at auto races has led to assignments with clients that, in most cases, have remained with him to this day. Ron's client list includes Miller Beer, Winston/RJ Reynolds, Quaker State, Auto Club, AC Delco, SnapOn Tools, US Smokeless Tobacco, and four major automobile manufacturers during the past two decades. Ron has more than 100 racing magazine covers and 3,000 photos to his credit.

His college degrees in Marketing and Electronics Engineering further his ability to work productively with corporate ad agency creative and marketing staff, as well as engineering departments to produce images that achieve client objectives.
Photographer's Prospackage will include:
An assortment of images from each event, via email upload of medium resolution images (ten images per weekend) for your website.
A CD of the 10 images from the photographer will be available after the event for an additional $50 fee.
Photos for hero cards, advertising, posters, or transporter graphics (additional fee - contact Ron)
We have simplified the process for you! Teams no longer have to deal with individual companies to fulfill their needs. You'll simply pay one fee to cover an entire year of service.
Email Ron

Doesn't get any better than this!